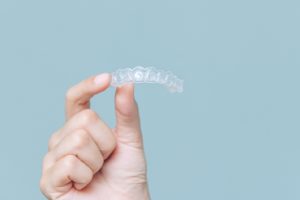 Invisalign has taken the world of modern dentistry by storm! These incredible aligners are revolutionary when it comes to correcting alignment issues and providing patients with a beautifully-straightened set of teeth. However, the Invisalign process is somewhat nuanced; every so often, patients will need to wear extra sets of trays to "refine" their treatment and achieve their desired results. But what exactly are these refinements and why are they necessary? Keep reading to learn more!
What Exactly Are Invisalign Refinements?
Simply put, Invisalign functions by gradually shifting your teeth into a correct position using special plastic aligners that are customized for your smile. This process typically takes between 12 – 18 months to complete, depending on the patient's compliance with treatment; the trays must be worn for roughly 22 hours each day.
But even still, sometimes this isn't quite enough; some patients need a little extra help towards the end of their treatment, and refinements are often the answer. These new aligners will be very similar to your old ones and will still need to be worn just as often. They'll typically extend your treatment timeline anywhere from 3 to 6 months depending on your needs.
Why Are These Refinements Necessary?
It's important to note that needing refinements does not mean that you've "failed" your Invisalign treatment; some things are simply out of your control! There are quite a few reasons that your orthodontist might deem them to be necessary; sometimes, difficult and stubborn teeth may simply move slower than anticipated. Other times, a patient might end up needing to undergo a dental treatment that alters the shape of their teeth, and as a result their aligners may no longer fit properly. Other reasons you might need Invisalign refinements include:
Failing to comply with the 22-hour rule
Going through a long period of time without wearing your aligners (due to an accident or illness)
Having teeth move differently than anticipated
Tips for Ensuring a Smooth Invisalign Journey
In any case, it's always best to do everything in your power to ensure that your Invisalign treatment goes well. Here are some tips for your consideration:
Do your absolute best to wear your aligners for 22 hours every day, only removing them during meals.
Take care of your smile; optimal oral hygiene will ensure that there aren't any unforeseen complications that could deter your treatment.
Store your aligners in their carrying case when they aren't being worn; lost or broken aligners will only set you back!
Invisalign can brilliantly transform your smile, but sometimes, the process requires refinements near the end. If you've been informed that you'll need refinements, you can rest assured that they'll set your smile up for lasting health and beauty.
About the Author
Dr. Alex Johnson has proudly served the orthodontic needs of the Palm Harbor community for several years. He received his DDS from Washington University and is an active member of several professional organizations including the Florida Dental Association and the American Association of Orthodontists. His practice is thrilled to offer several different orthodontic services including Invisalign. If you have any questions about the article or would like to schedule a visit, you can contact the practice online or by phone: (727) 786-7550.