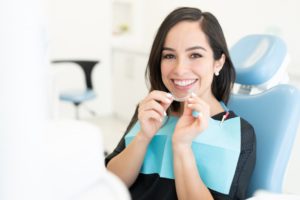 When your orthodontist inserted and removed your Invisalign, it seemed so easy. Now that you are home and trying to do it yourself, you may be struggling. Don't panic though; you'll be able to take them out. In fact, you can do so painlessly and seamlessly with these essential tips for removing clear aligners.
Tip #1: Take a Deep Breath
If you've found this blog in a state of panic while searching Google for how to remove your Invisalign trays, take a deep breath – there's no need to worry. Attempting to take them off your teeth in a state of frustration may result in you accidentally breaking them in the process. So, take a break if you need to, and then read on.
Tip #2: Don't Drink Cold Water
Sipping on cold water can make the plastic less flexible. Of course, you don't want to drink a hot beverage like coffee either, since it can warp and stain your trays. The best thing to do is use dry, clean hands to gently remove your aligners. If you're having trouble getting a grip on them, try using a paper towel.
Tip #3: Use an Aligner Hook
Removing your trays with your fingernails is certainly possible. Many patients find it's a convenient and easy way to pop their aligners in and out. However, it may be worth investing in an aligner hook, like the Pull Tool. This little gadget will help you get your aligners off your teeth quickly and painlessly.
Tip #4: Start from the Back
To put your trays on properly, you line them up with the front of your teeth and push them into position. When you take them out, you do the opposite. Instead, start at the back of your mouth, where your molars are.
Simply begin on one side of your mouth (on the inside), lifting the aligners off the back teeth. Then, do the same with the other side. Lastly, slowly work your way toward the middle, focusing on the easier sections if necessary.
The first few times you may find removing your clear aligners to be a bit difficult. Fortunately, this process will get easier over time. Plus, if you have any questions in the meantime, you can reach out to your orthodontist!
About the Author
Dr. Alex Johnson earned his dental doctorate from Washington University and stayed to attain his orthodontic certificate as well. He is a member of the American Association of Orthodontists and has completed continuing education courses at the prestigious Pankey Institute. If you are interested in Invisalign, Dr. Johnson offers personalized treatment for teens to seniors, and you can trust his three decades of orthodontic experience. Schedule a consultation on his website or call (727) 786-7550.