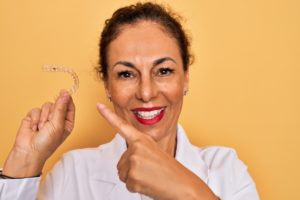 At age 71, Katsusuke Yanagisawa, a retired Japanese schoolteacher, became the oldest person to climb Mt. Everest. At age 77, John Glenn became the oldest person to go into space. William Ivy Baldwin became the oldest tightrope walker at age 82, crossing the South Boulder Canyon in Colorado on a 320-foot wire. You're only as old as you feel, and you're never too old to have straight teeth you're proud of. So, if you've wondered, "Am I too old for Invisalign?" – you're not! Invisalign can deliver your dream smile whether you're 14 or 74. Read on to find out from your orthodontist in Palm Harbor why it's never too late to straighten your smile.
There's No Age Limit for Straight Teeth
There are adults out there who have been incorrectly informed that their teeth are fully set in their jaws and can no longer move. The truth is that, with the right pressure, you can straighten your teeth at any age. Invisalign can work for patients of all ages, whether they are starting with relatively straight teeth or have teeth that are very crooked and need full treatment.
Straightening your teeth isn't just about aesthetics, you'll also find your teeth are easier to clean which reduces the risk of periodontal disease. You will chew more efficiently and that will aid digestion to improve gut health. Also, crooked teeth can cause jaw alignment issues which can foster bite problems and teeth grinding. Each one of those problems can spur chronic headaches, as well as face or neck pain. Finally, you can speak more clearly with properly aligned teeth.
Why Does It Benefit Adults to Seek Invisalign Treatment?
A common reason that Invisalign treatment takes longer than anticipated is that patients are not compliant with the instructions of their orthodontist. If you do not wear your aligners for at least 22 hours per day, your treatment is going to take much longer than it would otherwise.
Fortunately, adults often make better patients than teenagers because:
They maintain the motivation to improve
Don't take their health for granted
Listen to their dentists
Practice better oral hygiene
How Do You Confirm You're a Viable Candidate for Invisalign?
First, it is essential for you to schedule a consultation with your orthodontist. You will provide information about your dental history, and the dentist will take an impression of your mouth so they can better understand the issues that need to be addressed. It is helpful if you think of questions you want to ask in advance of the appointment and write them down, plus you can consider what your smile goals are.
The main qualifications for getting clear aligners are:
Your teeth and gums should be healthy
You should have great oral hygiene
Being able to follow instructions for wearing and cleaning your aligners
You shouldn't have any complex bite issues or jaw problems
You no longer have to wonder, "Am I too old for Invisalign?" Your age really is irrelevant, so Invisalign for seniors is a very real option. If you wish to straighten your teeth while only you and your orthodontist in Palm Harbor are aware, then clear aligners are the winning ticket!
About the Author
Dr. Alex Johnson earned his dental doctorate from Washington University and stayed to attain his orthodontic certificate as well. He is a member of the American Association of Orthodontists and has completed continuing education courses at the prestigious Pankey Institute. If you are interested in Invisalign, Dr. Johnson offers personalized treatment for teens to seniors, and you can trust his three decades of orthodontic experience. Schedule a consultation on his website or call (727) 786-7550.