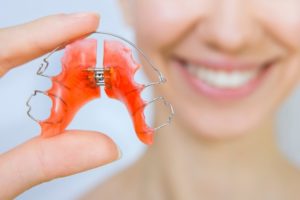 When you finish your orthodontic treatment, you are going to be happy to show off your new smile and get back to your usual routine. However, your orthodontist may have mentioned the need for you to wear a retainer to maintain your grin upgrade. There are several reasons why they believe this matters so much for your treatment. Keep reading to learn why your orthodontist in Palm Harbor recommends a retainer.
Ensure Your Teeth Remain Straight Indefinitely
Many things contribute to your alignment. Even if you have had braces and your teeth have settled into place, it is still possible for them to move in the future. As people age, so do their bodies, faces, and mouths. Teeth in the back of the mouth tend to move forward and cause overcrowding in the front. This can happen to anyone, even if you have always had perfectly straight teeth to this point. By wearing your retainer often, you are keeping your smile from changing in the future.
Save Yourself Time and Money Later On
Ultimately, the more treatment you get, the longer it will take to achieve your finished results, and the more money you will end up spending. If your teeth aren't kept in their new position with your retainer, they will move around and necessitate further treatment if you want to get your best-case smile back. By wearing your retainer as instructed by your orthodontist in Palm Harbor, you will save both time and money over the long haul.
Avoid a Relapse Back to Your Old Smile
Your orthodontic plan was effective by using pressure to push your teeth into new, aligned locations that they weren't necessarily used to. When you get your braces off or finish your last set of clear aligners, your teeth could quickly return to their original locations. Wearing your retainer, especially during this early aftercare period, is crucial to keep the beautiful results of your treatment. Don't let all your hard work and effort go to waste because you decided not to wear your retainer.
If you just finished your orthodontic regimen, remember that you shouldn't just return to your normal routine! In order to maintain your long-term results, save money, and prevent further movement, you should be wearing your retainer as directed going forward.
About the Author
Dr. Alex Johnson earned his dental doctorate from Washington University and stayed to attain his orthodontic certificate as well. He is a member of the American Association of Orthodontists and has completed continuing education courses at the prestigious Pankey Institute. A retainer is essential to preserve your results after you remove braces or stop using clear aligners. If you need one, schedule an appointment on Dr. Johnson's website or call (727) 786-7550.